Mortgage Minute: Your Questions Answered
Date Posted: April 29, 2021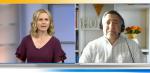 Q: I have heard that it will become more difficult to qualify for a mortgage come June 1st. What if we buy a house now but the closing date is beyond June 1st, will our mortgage application be impacted?
A: What happens as of June 1st, is if you are buying a house with 20% down or more, your qualifying rate will go from 4.79 to 5.25. This is currently still in a proposal status, that will likely be passed by June 1st. So, as long as you buy a house by June 1st you will be able to qualify under the old rules. If your purchase agreement is signed June 1st or later, and this proposal is passed, you will then have to qualify under the higher interest rate. The higher interest rate does make very little difference. It most likely won't slow down the extremely hot housing market.
For the full segment with Frank Napolitano on CTV Morning Live; click here.